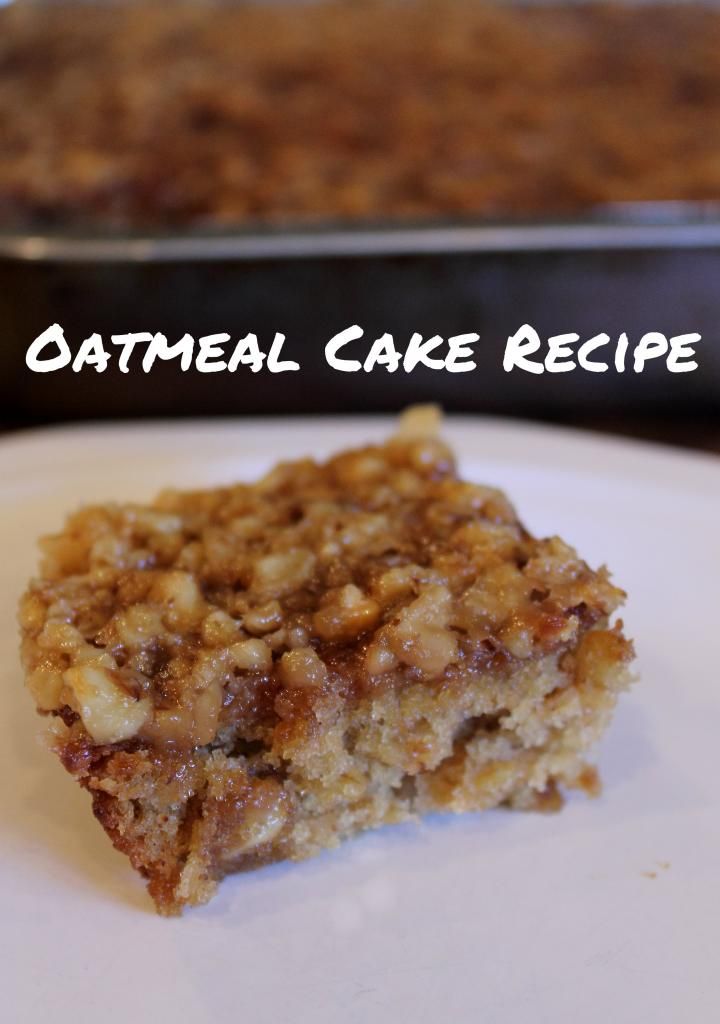 I'll just come right out and say it, you must make this cake. First off, it is really easy to make, second, it makes your belly happy, third, it is the perfect fall dessert. This cake is filled with the flavors of brown sugar and vanilla, is melt-in-your-mouth moist, and is topped off with a crunchy and sweet glaze. I hope you take the time to make this cake, you won't regret it!
P.S. I went to Panera for the first time in five year today, with my sister, brother, and sister-in-law. Their bread is amazing= I want to work there...
Oatmeal Cake Recipe
1 cup oats
1 1/2 cup hot water
1 cup brown sugar
1 cup white sugar
2 eggs
1 stick (half cup) butter, melted
1 1/2 tsp vanilla
1 tsp cinnamon
1 1/2 cup all-purpose flour
2 tsp. baking powder
1 tsp. baking soda
1/2 tsp. salt
Scroll farther down for the glaze recipe
Pour the oats in the hot water, set aside.
Preheat your oven on 350 degrees F. Grease and flour a 9x13 pan, set aside.
In a mixer bowl, combine the brown sugar, white sugar, eggs, butter, vanilla, and cinnamon, then add the water/oats mixture. Stir in the flour, baking powder, baking soda, and salt. Don't over mix the batter or the cake will be rubbery.
Pour the batter in the 9x13 pan, and put it in the preheated oven. Bake the cake for 35 minutes.
While the cake is baking, make your glaze.
1/3 cup butter
1/2 cup packed brown sugar
1/4 cup milk
2 Tbsp. flour
1 tsp. vanilla
1 cup chopped walnuts
In a small saucepan, melt your butter. Then add to the melted butter the brown sugar, milk, flour, vanilla, and chopped walnuts.
Immediately after the cake comes out of the oven, spread the glaze on top.
Turn your broiler on high and put the cake in the oven, 5 inches from the boiler. Let it broil for about 3 minutes. It should bubble a lot and gradually turn golden brown. Watch the cake constantly, to make sure the glaze doesn't burn.
Let the cake cool a little, then serve. Prepare for yumminess!
Pin It